Services
25 years of experience providing practical cost saving ideas and techniques for Fortune 500 companies and beyond.
Mail Room Management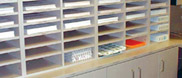 Mail rooms are critical to successful business operations. Inefficient mailroom management is costly and puts organizations at risk for compliance infractions that potentially may result in fines. Planning for a streamlined, highly effective mail center that's efficient and compliant is a requirement in today's communication intensive highly regulated business environment.
ECSS will provide a comprehensive plan that will allow the efficient operation of your organizations mail room, printing and postage service while reducing your organizations operational expense.
Mailroom Services/Postage
Analyze your current business processes; communicate a proposal to assist in becoming a more efficient business by lowering the cost of performing business in your organizations core competencies such as mail distribution, copy centers, records management and general mailroom services.
Streamlined mailroom management satisfies business requirement for:
Maximizing postal incentives by preparing automation-compatible mail
Precise mail handling that meets business and regulatory requirements
Efficient workflow that reduces the cost of document handling